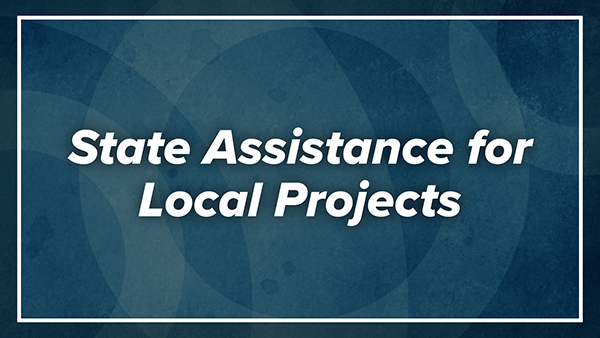 HARRISBURG – Sen. Devlin Robinson (R-37) announced more than $4.5 million in Commonwealth Financing Authority (CFA) funding is being awarded for local projects.
"I am pleased to announce that state dollars are being brought back to our region to help with the funding of local projects. Ensuring our communities are safe and thriving will keep people in Allegheny for years to come," Robinson said. "Funding these projects is investing in Allegheny's future."
Projects being funded through the Commonwealth Financing Authority (CFA) Local Share Account (LSA) program, which uses gaming revenue to support projects in the public interest across the commonwealth include:
$1 million for the McLaughlin Run Floor Control project in Bridgeville Borough,
$1 million to construct a new municipal building in South Fayette Township,
$500,000 to construct a public works garage in Franklin Park Borough,
$460,155 for final design planning of Montour Run Rd. and Market Place Blvd. in Moon Township,
$169,976 to purchase police equipment and vehicle in Bell Acres Borough,
$149,905 for sanitary sewer lining repairs in Ben Avon Heights Borough,
$150,000 for the Ridge Ave. Tot Lot improvements in Coraopolis Borough,
$209,000 for the installation of security cameras at the Creswell Heights Joint Authority in Crescent Township,
$94,600 for a water line replacement in Leet Township,
$93,220 to purchase a dump truck for use within Heidelberg Borough,
$56,880 for GIS mapping in McDonald Borough,
$147,573 to continue improvements of the town center in Oakdale Borough and
$55,000 to purchase a new boiler system in Moon Township.
Projects being funded through the CFA's Multimodal Transportation Fund program to encourage economic development and ensure that a safe and reliable system of transportation is available to the residents of the commonwealth include:
$325,000 to reconstruct Mill St. in Coraopolis Borough, and
$175,000 for pedestrian safety improvements at four intersections throughout Upper St. Clair Township.
"I commend our local boroughs, townships and organizations for their dedication in enhancing our communities, and I am grateful these projects have received state funding for the necessary improvements."
The CFA was established in 2004 as an independent agency of the Pennsylvania Department of Community and Economic Development to administer the commonwealth's economic stimulus packages. The Pennsylvania Race Horse Development and Gaming Act of 2004 provides for the distribution of gaming revenue through the CFA and its LSA program.
CONTACT: Allison Dutrey