In this update:
Memorial Day Highlights
Eagle Scout Project Dedication
Funding Secured for Animal Friends
USC Speech and Debate Team: 2023 Champions!
USC Principal of the Year
A New Mayor in BizTown
Provident Charter Schools Receives Grant Funding
The Children's Institute
South Park School District Visit
Congratulations, Class of 2023!
---
Memorial Day Highlights
I had the privilege to attend several Memorial Day ceremonies and celebrations last weekend. Each ceremony was incredibly moving, and I am grateful I had so many opportunities to honor our fallen heroes with members of the community.
U.S. Coast Guard Auxiliary of Sewickley's ceremony on Saturday afternoon.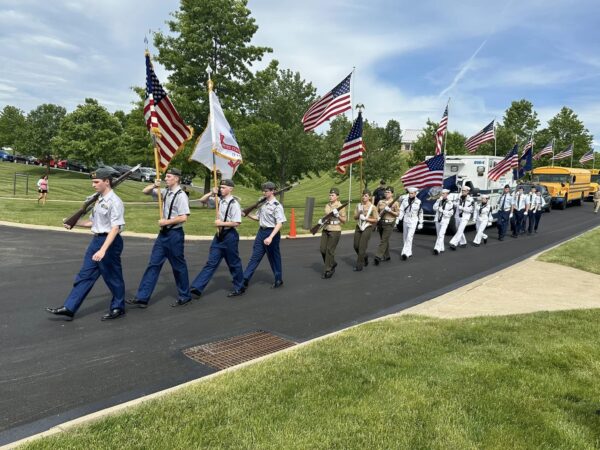 Ceremony at the National Cemetery of the Alleghenies with our Lieutenant Governor, Austin Davis, and House and Senate colleagues.
Bridgeville/South Fayette Memorial Day Ceremony and Parade.
Coraopolis Borough parade.
Collier Township Memorial Day Ceremony
Thank you to everyone who took the time to remember this important day. We must never forget the memory of those who gave their lives defending our freedom.
Eagle Scout Project Dedication
Congratulations to Benjamin from Troop 248 on completing his Eagle Scout project! Benjamin dedicated a sign to our troops deployed across the globe, benefiting VFW Post 7070 and American Legion Post 171, both in Oakdale. I'm honored to recognize this bright young man for his tribute to our service members.
Funding Secured for Animal Friends
One of my many stops around the district this week was Animal Friends in Ohio Township. I am thrilled to secure them a $300,000 grant from the PA Department of Community & Economic Development for an upcoming bridge repair project. Their steel truss bridge is the only point of access to their campus, which includes a shelter and education facility, an affordable public veterinary clinic and over 75 acres of wooded trails. I had a great time visiting with their staff and even made a new four-legged friend named Joker!
USC Speech and Debate Team: 2023 State Champions!
I made a very important stop at Upper St. Clair High School to congratulate the Speech and Debate Team, our 2023 State Champions! The team captured their fourth state title since 2017 with an impressive 600.5 points. They competed at the Pennsylvania High School Speech League (PHSSL) Tournament at Bloomsburg University this spring. Congratulations to all the students and coaches, Ben Edwards and Dave Watson! What an accomplishment!
USC Principal of the Year
I also had the opportunity to congratulate Dr. Timothy Wagner on being named the Pennsylvania Principal of the Year! Dr. Wagner, principal of Upper St. Clair High School, received this prestigious award from the PA Principals Association. Thank you, Dr. Wagner, for your commitment to the faculty and students in Upper St. Clair! We are proud to have you in the 37th district.
A New Mayor in BizTown
On Wednesday, I swore in a new mayor…at Junior Achievement's BizTown! BizTown is a fully interactive, mock town that simulates real-life business and community operations and gives young student the opportunity to practice these skills. Junior Achievement has over 100 locations across the country and reaches millions of students every year, striving to prepare them to succeed in a global economy. I am proud to have Junior Achievement of Western PA in my Senate district, and it was a lot of fun watching these future business leaders put their knowledge to the test!
Provident Charter School Receives Grant Funding
I am pleased to see Provident Charter School West receive grant funding from the PA Coalition of Public Charter Schools. Provident Charter School West is designed for children with dyslexia and other language-based learning differences, and is the only school of its kind in southwestern Pennsylvania.
The Provident Charter School Foundation recently received Wilson Accredited Training Partner status from Wilson Language Training, which allows the foundation to train and certify educators in the nationally recognized Wilson Reading System.
The Children's Institute
Thank you to the staff of the Children's Institute of Pittsburgh for a wonderful visit this week. They provide autism services, behavioral and physical health services, family support, and early intervention services to thousands of children and their families in our area. I enjoyed learning about all these incredible programs they offer.
South Park School District Visit
I had a great visit at South Park School District on Wednesday! I was also able to send off the seniors as they walked through the elementary school one last time before graduation. Thank you to superintendent Wayne Gdovic for hosting me, and congrats to the graduating seniors!
Congratulations, Class of 2023!
Congratulations to the class of 2023! To all our graduating students in the 37th district, I am incredibly proud of everything you've achieved and wish you all the best ahead!

For anyone who hasn't already signed up to receive my e-newsletters, you can get on the mailing list here.